Vermont Homeschool State Laws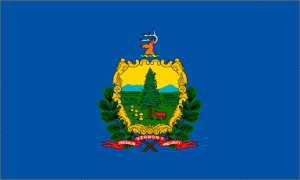 Vermont Statutes define homeschooling as "an educational program offered through home study which provides a minimum course of study and which is offered to not more than:
Children residing in that home, and
Children not residing in that home who either are two or fewer in number or who are from one family." (Vermont Statutes for Home Study, Title 16 V.S.A. Section II(21)/Classifications and Definitions).
The minimum course of study includes: communication skills including reading, writing and the use of numbers; citizenship, history, and government of Vermont and the United States; physical education and health education; English, American, and other literature; the natural sciences; and fine arts.  (Vermont Statutes, Title 16, Section 906) No teacher qualifications are required.
Title 16 V.S.A. Section 1121 outlines Vermont's compulsory public school attendance regulation as follows:  "A person having the control of a child between the ages of six and 16 years shall cause the child to attend a public school, an approved or recognized independent school or a home study program for the full number of days for which that school is held, unless the child:  (1) is mentally or physically unable so to attend; or (2) has completed the tenth grade; or (3) is excused by the superintendent or a majority of the school directors as provided in this chapter; or (4) is enrolled in and attending a postsecondary schools, as defined in Subdivision 176(b)(1) of this title, which is approved or accredited in Vermont or another state. "
Vermont's home study enrollment process requires written notice to the Commissioner [of education].  Title 16 describes the process:   "A home study program shall send a written enrollment notice to the Commissioner whenever it intends to enroll a child. Enrollments at home study programs shall expire on July l. If a home study program intends to re-enroll a child for the following school year, a new notice under this section is required and may be submitted at any time after March l.
A notice under this subsection shall include the following:  (l) The name and age, month and year of birth, of the child. (2)  The names, mailing addresses, the town of legal residence, and telephone numbers of the parents or guardians of the child. (3)  For each child enrolled during the preceding year, any assessment of progress required under subsection (d) of this section. (4)  For each child not previously enrolled in a Vermont public school or Vermont home study program, independent professional evidence on whether the child has a disability. A comprehensive evaluation to establish eligibilities for special education is not required but may be ordered by a hearing officer after a hearing under this section. (5)  Subject to the provisions of subsections (k) and (l) of this section, for each child being enrolled for the current year, a detailed outline or narrative which describes the content to be provided in each subject area of the minimum course of study, including any special services or adaptations to be made to accommodate any disability. Methods and materials to be used may be included but are not required. (6)  The names, addresses, telephone numbers, and signatures of the persons who will provide the ongoing instruction in the subject areas specified in subdivisions 906(b)(1), (2), (4), and (5) of this title. (7) The signatures of all custodial parents or guardians who are legally authorized to make educational decisions for the student."
Additionally, home study parents/teachers are required to conduct annual progress assessments for each student in the home study program.  Assessments must be completed for "each area of the minimum course of study."  Detailed instructions for conducting the assessment can be found in Vermont's April 2014 Guidelines for Home Study.
Vermont Homeschool State Laws Links:
Vermont Colleges
NOTE:  HomeschoolFacts does not endorse any of the links or organizations listed above.  All of the information provided is intended for research purposes only and is not given as legal advice.  REMEMBER:  The most important thing you can do to prepare for homeschooling your child is to become familiar with your state's laws about homeschooling.