Oregon Homeschool State Laws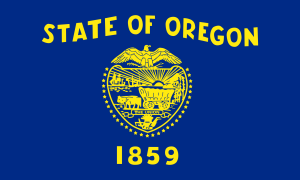 Homeschooling is an educational option in Oregon.  Parents who choose to home school their children must register each of them at their local Education Service District (ESD).  Registration must occur within 10 days of withdrawal from public school. To register your child for homeschooling, contact your ESD representative from the list provided by the Oregon Department of Education.
Oregon Statute 339.030 outlines situations in which school-age children may be exempt from attendance at public schools:
Children who are attending a private or parochial school and are pursuing coursework "usually taught in grades 1 through 12 in the public schools" and who are attending school for a period of time equivalent to that required to children attending public schools;
Children who the district school board feels satisfied "have acquired equivalent knowledge to that acquired in the courses of study taught in grades 1 through 12 in the public schools;"
Children who have already graduated from high school and have received a high school diploma;
Children who are taught by a private teacher for an equivalent number of hours as the attendance requirements for public school students and are studying "the courses of study usually taught in grades 1 through 12 in the public school;"
"Children excluded from attendance as provided by law;" and
"Children being educated in the children's home by a parent or legal guardian."
OAR 581-021-0026(4) states that "Parents are not required by law to provide advance notification to their local school district of intent to educate their children at home."  However,  OAR 581-023-0006(4)(b) does require that a parent wishing to homeschool their child must notify their local ESD within 10 days of being withdrawn from public school.  If a homeschool student is not registered with the ESD as being home-schooled within 10 days of being withdrawn, he/she will be considered to be truant. "Any gap of more than 10 days between withdrawal and registration equals truancy."  Furthermore, according to ORS 339.030 (1)(c-d)], "If a child is not in school and is not exempt under one of the provisions of the compulsory school attendance law, the child's parent may be reported by the school district as in noncompliance with the compulsory school law and court action may follow."  According to OAR 581-021-0026(4), a parent is not required to notify the ESD annually, but "is only required to notify the ESD when the student is first withdrawn from school or otherwise begins homeschooling or if the student moves to a new ESD."
If a disabled child is being homeschooled, the child's parent is required to have the child professional evaluated to determine whether or not the child is making satisfactory progress as based on their Individual Education Plan (IEP). No testing of a child with a disability is required unless included in that child's IEP
No requirements for certification or licensing of Oregon homeschool parent/teachers are noted in Oregon Revised Statutes or Oregon Administrative Rules.
Updated February 2018
Oregon Homeschool State Laws Links:
Oregon Colleges:
---
NOTE:  HomeschoolFacts does not endorse any of the links or organizations listed above.  All of the information provided is intended for research purposes only and is not given as legal advice.  REMEMBER:  The most important thing you can do to prepare for homeschooling your child is to become familiar with your state's laws about homeschooling.
COVID-19 UPDATE:  Due to the COVID-19 Pandemic and the ever-changing landscape of education, we are monitoring potential changes to homeschool requirements and will be updating our state pages within the next few months.