Oregon Homeschool State Laws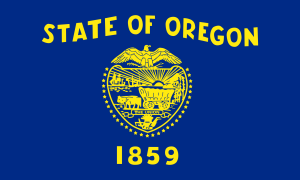 Oregon Homeschool Law/State Code – Home Schooling is an educational option in Oregon. Families who choose to home school children in their care must comply with state requirements (see below), pursuant to Oregon Administrative Rules. (https://oregon.public.law/rules/oar_581-021-0026 )
Compulsory Attendance Requirement – All children between the ages of 6 and 18 years who have not completed the 12th grade are required to regularly attend a public full-time school during the entire school term.  Children being educated in the children's home by a parent or legal guardian are exempted from compulsory attendance requirements. 
Number of Classroom Hours Required – As per National Center for Education Statistics (NCES) 2018 report, public school attendance requirements for Oregon are:  Half day kindergarten = 450 hours; full-day kindergarten = 900 hours; grades 1 to 8 = 900 hours; grades 9 to 11 = 990 hours and grade 12 = 966 hours.  (Unless otherwise noted, home school requirements are either the same OR are not specified by this state.)
State Mandated Subjects – No state mandated subject requirements
Assessment Requirements – Coordinate with Home School Tester(s) to assess student growth at the end of grade levels 3, 5, 8, and 10 (testing begins 18 months after notification). Submit test results to local ESD when requested. Children who completed grades 3, 5, 8, or 10 during the 2019-20 school year shall be examined no later than November 15 of the following school year.  (https://www.oregonlegislature.gov/bills_laws/ors/ors339.html) 
Immunization Requirements – No immunization requirements 
Parental Responsibilities
Official School Withdrawal Required? – When a child is taught or is withdrawn from a public or private school to be taught by a parent, legal guardian or private teacher, the parent, legal guardian or private teacher must notify the Education Service District (ESD) in writing within 10 days of such occurrence. (https://oregon.public.law/rules/oar_581-021-0026 )
Notification Required When Homeschool Established? – Notify the local Education Service District (ESD) of intent to homeschool within 10 days of withdrawing from public or private school. This is a one-time only requirement.
Record Keeping Requirements? – No record keeping requirements
Teacher Certification Required? – No certification or licensing requirement.
If you're interested in more information about your state's homeschool laws, contact: www.info@hsf.com and your inquiry will be answered via email within 24 hours. For details about graduation requirements in your area, contact your nearest school district office.
Updated : November 2020
Oregon Homeschool State Laws Links:
Oregon Colleges:
---
 NOTE:   HomeSchoolFacts intends the above information to be used for research purposes only. None of this information is intended as legal advice by HomeSchoolFacts.
COVID-19 UPDATE:  Due to the COVID-19 Pandemic and the ever-changing landscape of education, we are monitoring potential changes to homeschool requirements and will be updating our state pages within the next few months.