Oklahoma Homeschool State Laws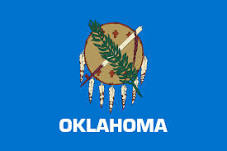 Oklahoma Homeschool Law/State Code – Oklahoma homeschools are not regulated and Oklahoma is the only state that guarantees the right to homeschool as part of its constitution. (https://sde.ok.gov/home-school) 
Compulsory Attendance Requirement – Home instruction should follow compulsory school age laws requiring children, ages 5 – 18, to be enrolled in school.
Number of Classroom Hours Required – Home school setting should maintain compulsory school attendance requirements.  This would be the equivalent of 180 days per each calendar year and six clock hours or 360 minutes per day, as appropriate for child's age. 
State Mandated Subjects – There are no state statutes requiring that certain subjects be taught in homeschools. Under Oklahoma law, required public school subjects include reading, writing, math, science, citizenship, US constitution, health, safety, physical education, and conservation.
Assessment Requirements – Oklahoma law does not require homeschool parents to conduct state testing with their students.
Immunization Requirements – No immunization requirements
Parental Responsibilities
Notification Required When Homeschool Established? – Homeschools are not regulated and Oklahoma law does not require parents to register with or seek approval from state or local officials, conduct state testing with their students, or permit public school officials to visit or inspect homes.  
(https://sde.ok.gov/homeschool) 
Record Keeping Requirements? – Academic progress must be established and maintained for the child but there is no official record keeping requirement.
Teacher Certification Required? – the Attorney General has ruled that while home instruction does not require a certified teacher, the instruction provided must be supplied in good faith and must be equivalent to the education provided by the state.
If you're interested in more information about your state's homeschool laws, contact: www.info@hsf.com and your inquiry will be answered via email within 24 hours. For details about graduation requirements in your area, contact your nearest school district office.
Updated: November 2020
Oklahoma Homeschool State Laws Links:
Oklahoma Colleges:
---
 NOTE:   HomeSchoolFacts intends the above information to be used for research purposes only. None of this information is intended as legal advice by HomeSchoolFacts.  
COVID-19 UPDATE:  Due to the COVID-19 Pandemic and the ever-changing landscape of education, we are monitoring potential changes to homeschool requirements and will be updating our state pages within the next few months.