North Dakota Homeschool State Laws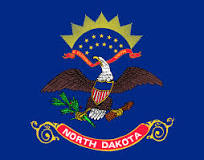 North Dakota Homeschool Law/State Code – North Dakota Century Code 15.1-23-02:  Statement of intent to supervise home education. At least fourteen days before beginning home education or within fourteen days of establishing a child's residence in a school district, and once each year thereafter, a parent intending to supervise or supervising home education shall file a statement, reflecting that intent or fact, with the superintendent of the child's school district of residence or if no superintendent is employed, with the county superintendent of schools for the child's county of residence.   (https://www.legis.nd.gov/cencode/t15-1c23.pdf?20150714132045 )
For more information, visit:  https://www.nd.gov/dpi/parentscommunity/parents/home-education 
Compulsory Attendance Requirement – "North Dakota Century Code 15.1-20-01. Compulsory attendance. 1. Any person having responsibility for a child between the ages of seven and sixteen years shall ensure that the child is in attendance at a public school for the duration of each school year." A child that is registered as attending a home education program is exempt from this requirement.
Number of Classroom Hours Required – If operating under the state's homeschool education law, attendance requirement is 175 days each year and 4 hours each school day.  If operating as a private school, requirement is a minimum of 180 days.
State Mandated Subjects – Elementary and Middle School: math, language arts, social studies, physical education, and health.  High School:  math, language arts, social studies, science, physical education, foreign languages OR fine arts, and technical education.
Assessment Requirements – ND Century Code 15.1-23-09. "Home education – Standardized achievement test – Exemption. 1. a. While in grades four, six, eight, and ten, each child receiving home education shall take: (1) A standardized achievement test used by the school district in which the child resides; or (2) A nationally normed standardized achievement test if requested by the child's parent. b. The child shall take the test in the child's learning environment or, if requested by the child's parent, in a public school. An individual licensed to teach by the education standards and practices board or approved to teach by the education standards and practices board shall administer the test. 2. a. The requirement of subsection 1 does not apply if the parent notifies the school district in which the child resides that the parent has a philosophical, moral, or religious objection to the use of standardized achievement tests or the parent: (1) Is licensed to teach by the education standards and practices board or approved to teach by the education standards and practices board; (2) Holds a baccalaureate degree; or (3) Has met or exceeded the cutoff score of a national teacher examination given in this state or in any other state if this state does not offer such an examination. b. The parent shall file the notification and necessary documentation required by this subsection with the school district at the same time that the parent files the statement of intent to supervise home education required by section 15.1-23-02."
Immunization Requirements – Student immunization records must be included with the original filing of the Statement of Intent. 
Homeschool Options – There are 2 options parents can homeschool under: (1) Operate under the state homeschool law, or (2) operate as a private school.  
Parental Responsibilities – 
Notification Required When Homeschool Established? – At least fourteen days before beginning home education or within fourteen days of establishing a child's residence in a school district, and once each year thereafter, a parent intending to supervise or supervising home education shall file a statement, reflecting that intent or fact, with the superintendent of the child's school district of residence or if no superintendent is employed, with the county superintendent of schools for the child's county of residence. (For more information, see "North Dakota Homeschool Laws," above.)
Record Keeping Requirements? – A parent supervising home education shall maintain an annual record of courses taken by the child and the child's academic progress assessments, including any standardized achievement test results. If the child transfers to a public school district, the parent shall furnish the record, upon request, to the school district superintendent or other administrator.
Teacher Certification Required? – ND Century Code 15.1-23-03. Home education – A parent may supervise home education if the parent holds a high school diploma or a general educational development (GED) diploma. A parent without a high school diploma or GED may supervise home education but must be monitored for the first two years. If a child receiving home education obtains a basic composite standardized achievement Page No. 1 test score below the fiftieth percentile nationally, the parent must be monitored for at least one additional school year and until the child receives a test score at or above the fiftieth percentile. (https://www.legis.nd.gov/cencode/t15-1c23.pdf?20150714132045 ). If operating as a private school, parent/teacher must hold a North Dakota teaching certification.
If you're interested in more information about your state's homeschool laws, contact: www.info@hsf.com and your inquiry will be answered via email within 24 hours. For details about graduation requirements in your area, contact your nearest school district office.
________________________________
Updated: November 2020
North Dakota Homeschool State Laws Links:
North Dakota Colleges:
---
 NOTE:   HomeSchoolFacts intends the above information to be used for research purposes only. None of this information is intended as legal advice by HomeSchoolFacts.  
COVID-19 UPDATE:  Due to the COVID-19 Pandemic and the ever-changing landscape of education, we are monitoring potential changes to homeschool requirements and will be updating our state pages within the next few months.