New Mexico Homeschool State Laws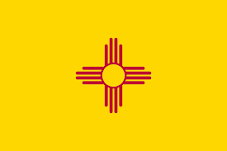 New Mexico Homeschool Law/State Code – Home schooling in New Mexico is when a parent or legal guardian of a school-age person operates a home study program, including, but not limited to, reading, language arts, mathematics, social studies, and science. Students who are home schooled are not considered public school students.  (https://webnew.ped.state.nm.us/bureaus/options-parents-families/home-schools/).  Home schools are to be operated out of one's home.  The New Mexico Public Education Department (NMPED) has the duty to enforce legal requirements of home schools. Upon finding that a home school is not in compliance with the law, PED can order a student of such a school to transfer to a public or private school.  (https://webnew.ped.state.nm.us/wpcontent/uploads/2019/06/StatutesAndResponsibilities.pdf) 
Compulsory Attendance Requirement – State law requires all students ages 5–18 to attend school—either public, private, parochial, state institution, or home school—and provides criminal penalties for parents who refuse to comply with the law.
Number of Classroom Hours Required – As per National Center for Education Statistics (NCES) 2018 report, public school attendance requirements for New Mexico are: half-day kindergarten = 450 hours; full day kindergarten and grades 1 to 6 = 990 hours; grades 7 to 12 = 1080 hours.  (Unless otherwise noted, home school requirements are either the same OR are not specified by this state.) 
State Mandated Subjects – Subjects must include, but not be limited to, reading, language arts, mathematics, social studies, and science.
Assessment Requirements – No standardized testing or assessment requirements
Immunization Requirements – Parent must keep a copy of their child's immunization records or approved waiver form on file.
Homeschool Options – (Options during the Coronavirus pandemic)
Public Schooling from Home:  

Parents have the option of keeping their children enrolled in their existing school while taking advantage of the remote learning option(s) that the school is offering. Per the Governor's health orders, all public school districts/charter schools/private schools are required to offer a 100% remote learning option throughout this health crisis for any parents who need/want this option.  Students continue to have access to educational materials, curriculum, and special education services, if eligible.  Parents do not need to register as a home school and should contact their child's school.

  
Home Schooling:  

Thousands of families across the state choose to home school their children.  Home school operators are solely responsible for all aspects of instruction for their children, including obtaining their own curriculum, materials and services.  This requires withdrawing/dis-enrolling your child(ren) from their existing school(s), creating an account online to notify the New Mexico Public Education Department (NMPED) that you intend to operate a home school, and adding and enrolling your child(ren) in your home school.    
Parental Responsibilities
Notification Required When Homeschool Established? – The New Mexico Public Education Department (NMPED) Home School System is the online home school notification database for the State of New Mexico.  Parent accounts allow families to easily notify the NMPED of the enrollment and disenrollment of children in home schooling each year.  Once an account is created, parents can login to provide annual notification to NMPED, update contact details, change geographic school district (if moved), and provide enrollment/disenrollment information.  This online registration replaces the Letter of Intent to the Public Education Department Secretary. Renew the home school establishment every year on or before August 1st by submitting written or electronic notification to the state. (https://webnew.ped.state.nm.us/bureaus/optionsparents-families/home-schools/)
Record Keeping Requirements? – Parents are not required to submit curricula or lesson plans to the state, but should keep their own records, including attendance and immunization records.
Teacher Certification Required? – NMPED Statute 22-1-1.1.C states that homeschool instruction "must be provided by a person possessing at least a high school diploma or its equivalent."
If you're interested in more information about your state's homeschool laws, contact: www.info@hsf.com and your inquiry will be answered via email within 24 hours. For details about graduation requirements in your area, contact your nearest school district office.
Updated: November 2020
New Mexico Homeschool State Laws Links:
New Mexico Colleges:
---
NOTE:   HomeSchoolFacts intends the above information to be used for research purposes only. None of this information is intended as legal advice by HomeSchoolFacts.  
COVID-19 UPDATE:  Due to the COVID-19 Pandemic and the ever-changing landscape of education, we are monitoring potential changes to homeschool requirements and will be updating our state pages within the next few months.