New Mexico Homeschool State Laws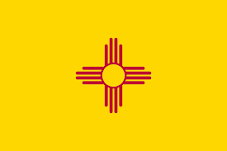 In New Mexico, a homeschool is defined as "the operation by a parent, guardian or other person having custody and control of a school-age person of a home study program of instruction that provides a basic academic education program, including reading, language arts, mathematics, social studies, and science." (New Mexico Statutes Annotated/NMSA 1978 22-1-2 F, K). Section 22-1-2.1 of the same law states that "any person operating or intending to operate a homeschool shall provide instruction by a person possessing at least a high school diploma or its equivalent."
The parent/operator of a New Mexico homeschool is required to:
Be the student's parent or legal guardian;
Have a high school diploma or GED (NOTE: any person in a teaching position in the homeschool must also have a high school diploma or GED);
Keep records that indicate you are teaching your children at least 180 days of the school year;
Send electronic or written notification to the New Mexico Secretary of Education within 30 days of starting your homeschool;
Submit written notification to the state on or before August 1st of every year your homeschool is in operation;
Maintain a record of each student's disease immunizations;
Conduct classes the same number of days included on the public school calendar; and
Teach at least these core subjects: reading, language arts, math, social studies, and science.
A GED is not legally required for New Mexico homeschool students to graduate from homeschool/high school. Because some employers and/or colleges and universities do require a high school diploma or equivalency for acceptance and enrollment purposes, New Mexico Senate Bill 44 (SB44) changed the language related to a high school diploma from "GED" to read "High School Equivalency Credential," which provides some latitude for homeschooled students to present their homeschool diploma for consideration as an "equivalency credential" to the college of their choice.
New Mexico school districts have the latitude, under some circumstances, to use program units from students registered in both homeschool and public school for federal funding calculations. New Mexico Senate Bill 153 allows that, if a homeschool student is enrolled in one or more classes in a public school, the school district may be eligible to apply the related program units to calculate available public school federal funding. The school district in which the homeschool student resides determines the eligibility and enrollment of the student to any public school classes.
Updated January 2018
New Mexico Homeschool State Laws Links:
New Mexico Colleges:
---
NOTE:  HomeschoolFacts does not endorse any of the links or organizations listed above.  All of the information provided is intended for research purposes only and is not given as legal advice.  REMEMBER:  The most important thing you can do to prepare for homeschooling your child is to become familiar with your state's laws about homeschooling.