New Hampshire Homeschool State Laws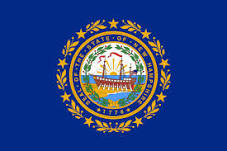 The New Hampshire home education program was established by law on July 1, 1991.  The law, as written, required that the home education program be administered by the state's board of education.  (Title XV: Education, Chapter 193-A, Home Education, Section 193-A:2)  New Hampshire state laws recognize home education as "an alternative to attendance at a public or private school" and "an individualized form of instruction in accordance with Chapter 279:2, laws of 1990."  Under New Hampshire education Administrative Rule Ed 315, a parent is "eligible to establish a home education program for a child between 6 and 18 years of age."
Title XV, Chapter 193-A, Section 193-A:4 of New Hampshire law defines home education as consisting "of instruction in science, mathematics, language, government, history, health, reading, writing, spelling, the history of the constitutions of New Hampshire and the United States, and an exposure to an appreciation of art and music."  Home education must be provided by a parent for their own child unless another arrangement is agreed upon by "the department of education and the resident district superintendent," or if a nonpublic school, upon request of the parent, works with the parent to meet specified requirements.
New Hampshire law states that "a parent may provide home education to a child or children at home, subject to the following requirements:"
The home school parent must notify the commissioner of the department of education, resident district superintendent, or principal of a nonpublic school of their intent to home school their children within 5 business days of beginning the home education program.
Notification must include "a list of the names, addresses, and birth dates of all children who are participating in the home education program."
If the home education program is terminated, the home school parent must file a written notice of termination "with the commissioner of education, and, in addition, the resident district superintendent or nonpublic school principal within 15 days of said termination."
According to New Hampshire RSA 193:1, I(f)(2), a parent with a child that has successfully completed high school through a home school program must "submit a letter to the department of education certifying that the child has completed the  home school program at the high school level."  The letter "shall also include" the name, address and date of birth of the child;  the name and address of the parents; the date of completion of the home school program; a phone number where the parents may be reached during normal business hours; and the signature of the parent.  New Hampshire homeschooling law neither requires nor provides a secondary school completion credential for resident homeschool students.
New Hampshire Homeschool State Laws Links:
New Hampshire Colleges:
NOTE:  HomeschoolFacts does not endorse any of the links or organizations listed above.  All of the information provided is intended for research purposes only and is not given as legal advice.  REMEMBER:  The most important thing you can do to prepare for homeschooling your child is to become familiar with your state's laws about homeschooling.