Nevada Homeschool State Laws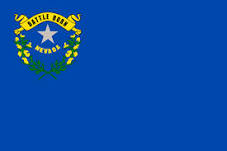 Nevada Homeschool Law/State Code – Nevada Law (NRS 392.070, NRS 388D.020) provides for a waiver of the compulsory attendance laws and procedures for parents/guardians to follow in pursuing the waiver. Attendance of a child required by the provisions of NRS 392.040 must be excused when:  (1) The child is enrolled in a private school pursuant to chapter 394 of NRS; or (2) A parent of the child chooses to provide education to the child and files a one-time notice of intent to homeschool the child with the superintendent of schools of the school district in which the child resides in accordance with Nevada Revised Statute (NRS)  388D.020. (http://www.doe.nv.gov/Homeschooling/)
Compulsory Attendance Requirement
–
Unless exempted, attendance required for child between 7 and 18 years of age; minimum age required for kindergarten and first grade; waiver from attendance available for child 6 years of age; developmental screening test required to determine placement. (
https://law.justia.com/codes/nevada/2010/title34/chapter392/nrs392-040.html
)
Number of Classroom Hours Required – There are no "days or hours per day" required for a homeschool child. Homeschooled children are exempt from the number of days a child is required to attend public school.
State Mandated Subjects – Under NRS 388D.050 the parent of a child who is being homeschooled shall prepare an educational plan of instruction for the child in the subject areas of English language arts, mathematics, science and social studies, including history, geography, economics and government, as appropriate for the age and level of skill of the child as determined by the parent. Further, the parent is not required to teach every subject every year and additional subjects may be covered. (https://nevadahomeschoolnetwork.com/WP/wp-content/uploads/2018/09/NEVADA-HOMESCHOOL-LAW.overview.2018.pdf ).
Assessment Requirements– No standardized tests are required of homeschool students in Nevada. A parent is free to choose the method of evaluation, if any, is appropriate to determine their child's academic needs, advancement to the next grade and/or final completion of the homeschool school program. (https://nevadahomeschoolnetwork.com/WP/wp-content/uploads/2018/09/NEVADA-HOMESCHOOL-LAW.overview.2018.pdf ) 
Immunization Requirements – No vaccinations are required of homeschooled students.
Parental Responsibilities
Notification Required When Homeschool Established? – Yes.  If the parent of a child who is subject to     compulsory attendance wishes to homeschool the child, the parent must file with the superintendent of schools     of the school district in which the child resides a one-time written notice of intent to homeschool the child.      (http://www.doe.nv.gov/Homeschooling/ )
Record-Keeping Requirements? – No mandated record keeping requirements.
Teacher Certification Required? – No certifications or licenses required for homeschool teachers.
If you're interested in more information about your state's homeschool laws, contact: www.info@hsf.com and your inquiry will be answered via email within 24 hours. For details about graduation requirements in your area, contact your nearest school district office.
Update: November 2020
Nevada Homeschool State Laws Links:
Nevada Colleges
---
NOTE:   HomeSchoolFacts intends the above information to be used for research purposes only. None of this information is intended as legal advice by HomeSchoolFacts.  
COVID-19 UPDATE:  Due to the COVID-19 Pandemic and the ever-changing landscape of education, we are monitoring potential changes to homeschool requirements and will be updating our state pages within the next few months.