Michigan Homeschool State Laws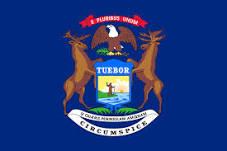 Michigan Homeschool Law/State Code – Michigan Compiled Laws under MCL 380.1561:   Right to Home School. Michigan parents have the right to home school their children. The law requires a parent or legal guardian of a child from the age of six to sixteen to send his or her child to school during the entire school year, except under certain limited circumstances (MCL 380.1561). 
Compulsory Attendance Requirement – Compulsory school attendance laws require any child ages 6 to 17 to attend school full time, but families have two options for meeting this requirement while educating at home. The law was amended in 2010 to increase the compulsory school attendance age from 16 to 18 for a child who turned 11 after December 1, 2009, or who entered grade six after 2009. The exceptions include, but are not limited to, sending a child to a state-approved nonpublic school, or educating a child at home in an organized educational program.
Number of Classroom Hours Required – 180 classroom days equivalent to 1098 hours
State Mandated Subjects – Instruction must include mathematics, reading, English, science, and social studies in all grades; and the Constitution of the United States, the Constitution of Michigan, and the history and present form of civil government of the United States, the State of Michigan, and the political subdivisions and municipalities of the State of Michigan in grades 10, 11, and 12.
Assessment Requirements – There are no required tests for a home-schooled student. The parent is responsible for administering tests based upon the curriculum they use. Although not required, homeschooled students may participate in state testing at their local public school. These tests are managed by MDE and are administered at no cost to a home-schooled student. For further information, contact your local public school. Michigan homeschool law does not require home school students who are homeschooled to take annual standardized tests or assessments.
Immunization Requirements– No immunization requirements
Homeschool Options – (1) Operate as a non-public school: this requires that all instruction be handled by a state certified teacher, or (2) operate as a home education program: this option has almost no regulations except that families include instruction in the specific subjects of Reading, Spelling, Mathematics, Science, History, Civics, Literature, Writing and English Grammar.
Parental Responsibilities
Notification Required When Homeschool Established?  – The annual reporting of a home school to the Michigan     Department of Education (MDE) is voluntary. It is not required unless the student is requesting eligible special     education services from the local public school or intermediate school district. It is not required that a parent     inform their local school of the decision to home school, however, it is suggested. Failure to do so may result in     the student being marked absent and the involvement of the truancy officer. Notification may be a phone call or     a written note to the district. (https://www.michigan.gov/documents/home_schools_122555_7.pdf) 
Record Keeping Requirements? – Parents are encouraged to maintain student records of progress throughout     the year. These records will assist school personnel with placement should the student enroll in a public or     nonpublic school. The granting of credits and placement of students is solely determined by the receiving     school. If a student attends a home school and returns to a public school, the public school generally reevaluates  the students for grade placement and the transfer of credit.
Teacher Certification Required? – A parent or legal guardian who home schools his or her child is not required to  hold a valid Michigan teaching certificate, permit, or occupational authorization. A parent or legal guardian     reporting to MDE must have a minimum bachelor's degree to be approved unless they claim a sincerely held     religious belief against teacher certification (People v DeJonge). Reporting is required if the parent or legal     guardian is seeking eligible special education services for their child(ren).     (https://www.michigan.gov/documents/home_schools_122555_7.pdf )
If you're interested in more information about your state's homeschool laws, contact: www.info@hsf.com and your inquiry will be answered via email within 24 hours. For details about graduation requirements in your area, contact your nearest school district office.
Updated: November 2020
Michigan Homeschool State Laws Links:
Michigan Colleges:
---
NOTE:   HomeSchoolFacts intends the above information to be used for research purposes only. None of this information is intended as legal advice by HomeSchoolFacts.  
COVID-19 UPDATE:  Due to the COVID-19 Pandemic and the ever-changing landscape of education, we are monitoring potential changes to homeschool requirements and will be updating our state pages within the next few months.