Maine Homeschool State Laws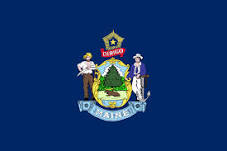 Maine Revised Statute Title 20A Sections 5001-A Sub. 3A(1)(c-1) states clearly that "A child receiving home instruction that complies with state requirements is excused from attending a public day school." A parent wishing to establish a homeschool in Maine is required to file a written notice of intent both to school officials in their local district and to the commissioner of education. The notice must be filed within ten calendar days of the date the homeschool will begin an education program or by September 1st if the homeschool will start at the beginning of the public school year. The notice must include:
Name, signature and address of the student's parent or guardian;
Name and age of each student;
Date the homeschool will begin instruction;
Statement indicating that the homeschool will provide instruction at least 175 days a year and that instruction will be given in English and language arts, math, science, social studies, physical education, health education, library skills, and fine arts. In at least one grade from grades 6 to 12, instruction in Maine Studies is required. In at least one grade from grades 7 to 12 each student must show proficiency in the use of computers; and
Statement indicating that the homeschool program will conduct an annual assessment of each student's academic progress.
Every year the homeschool program operates, the student's parent or guardian must file a statement indicating the intent to continue the home instruction. One of the following annual assessments must be enclosed with the filing:
Results of a standardized achievement test for each student;
A test developed by the local school officials where the student resides;
A review and acceptance of each student's progress conducted by an individual who holds a current Maine teacher's certificate;
A review of each student's progress based at least in part on acceptance of the student's academic portfolio by a local homeschooling support group whose membership includes a currently certified Maine teacher or administrator who has personally reviewed the progress report; or
A review and acceptance of each student's progress by a local advisory board selected by the local superintendent of schools.
Finally, the responsible parent or guardian related to the homeschool must keep copies of the notice of intent and annual assessment forms until the home instruction program concludes. The records must be made available to the commissioner of education on request. (Me. Rev. Stat. Ann. Title 20A, Sections 5001-A Sub 3A(1)(4)(c).
In addition, Maine education laws state that groups of homeschools can work together and be recognized as the equivalent to a private school (REPS). Check with your local school district to learn what must be done to be legally recognized as a private school.
One of the requirements for obtaining recognition as a homeschool or a private school is that the school must provide instruction in these subjects:
English (reading, writing, spelling, and grammar),
math,
science,
American History,
Maine history and geography,
government (including the privilege and responsibility of citizenship),
health education, and
fine arts.
Update March 2018
Maine Homeschool State Laws Links:
Maine Colleges:
---
NOTE: HomeschoolFacts does not endorse any of the links or organizations listed above. All of the information provided is intended for research purposes only and is not given as legal advice. REMEMBER: The most important thing you can do to prepare for homeschooling your child is to become familiar with your state's laws about homeschooling.