Maine Homeschool State Laws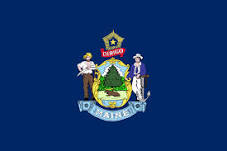 Maine Homeschool Law/State Code – A home instruction program must comply with the requirements of Maine Revised Statutes, including:  (1) Parent or guardian must file a written Notice of Intent to provide home instruction to "the school officials of the administrative unit in which the student resides and to the commissioner with in 10 calendar days of the beginning of home instruction. (2) "On or before September 1st of each year of home instruction, the student's parent or guardian shall file a letter with the school officials of the administrative unit in which the student resides and the commissioner stating the intention to continue providing home instruction."  (http://www.mainelegislature.org/legis/statutes/20-A/title20-Asec5001-A.html ) (https://www.maine.gov/doe/schools/schoolops/homeinstruction/requirements ) 
Compulsory Attendance Requirement – A person is excused from public day school attendance requirement if they are receiving equivalent instruction in (c-1) a home instruction program that complies with state requirements. (http://www.mainelegislature.org/legis/statutes/20-A/title20-Asec5001-A.html) 
Number of Classroom Hours Required – At least 175 classroom days annually
State Mandated Subjects – Homeschools must provide instruction in English and language arts, math, science, social studies, physical education, health education, library skills, fine arts and, in at least one grade from grade 6 to 12, Maine studies.  At one grade level from grade 7 to 12, the student will demonstrate proficiency in the use of computers.
Assessment Requirements – With annual intent to continue homeschooling, parent must submit at least one of the following forms of assessment:  (1) A standardized achievement test; (2) a test developed by school officials; (3) a review and acceptance of the student's progress based on, but not limited to, a presentation of an educational portfolio of the student; (3) a review and acceptance of the student's progress by an identified individual who holds a current Maine Teaching certificate; (4) a review and acceptance of the student's progress based on a student educational portfolio presentation to a local area homeschooling support group whose membership includes a currently certified Maine teacher; or (5) a review and acceptance of student progress by a local advisory board selected by the superintendent of the administrative unit in which the student resides that includes one administrative unit employee and 2 home instruction tutors (the parent, guardian or other person who acts as the child's primary teacher).  (For complete information visit:  http://www.mainelegislature.org/legis/statutes/20-A/title20-Asec5001-A.html . 
Immunization Requirements – No immunization requirements
Homeschool Options – Students can homeschool under either Maine's homeschool law (see above) or as a student in a private school (contact local Department of Education for private school requirements).  
Parental Responsibilities
Notification Required When Homeschool Established? – Yes. See "Maine Homeschool Law/State Code, above.
Record Keeping Requirements?  – See Assessment Requirements, above
Teacher Certification Required? – If homeschool families have elected as a group to be listed as a private school,  teacher certification is required. No requirements for homeschools operating solely under Maine's homeschool law.
If you're interested in more information about your state's homeschool laws, contact: www.info@hsf.com and your inquiry will be answered via email within 24 hours. For details about graduation requirements in your area, contact your nearest school district office.
Updated: November 2020
Maine Homeschool State Laws Links:
Maine Colleges:
---
NOTE:   HomeSchoolFacts intends the above information to be used for research purposes only. None of this information is intended as legal advice by HomeSchoolFacts. 

COVID-19 UPDATE:  Due to the COVID-19 Pandemic and the ever-changing landscape of education, we are monitoring potential changes to homeschool requirements and will be updating our state pages within the next few months.