Kentucky Homeschool State Laws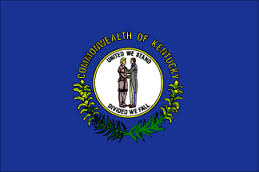 Kentucky Homeschool Law/State Code – The Kentucky constitution establishes the prerogatives of the parents to choose the formal education for the child. Therefore, parents may choose to homeschool their child. Home schools are considered to be private schools, under Kentucky law.  It is required that all core instruction be offered in the English language.  (https://education.ky.gov/federal/fed/Pages/Home-School.aspx ) 
Compulsory Attendance Requirement – In Kentucky, under state law, all children must be enrolled in school between the ages of six (6) and 18. If a child is six (6) by August 1, he or she MUST be enrolled in primary school. Children can begin primary school at age five, but only if their 5th birthday is on or before August 1 of the current school year. A four-year-old who will turn five by August 1 can enroll in primary school. See KRS 159.010 for further explanation. (https://apps.legislature.ky.gov/law/statutes/statute.aspx?id=46050 )
Number of Classroom Hours Required – The minimum school term is 1062 instructional hours. The term of the school shall not be for a shorter period in each year than the term of the public school in the district in which the child attending the school resides. In those school districts which are operating a year-round school program, the minimum term of private and parochial schools shall be one hundred eighty-five (185) days.  (https://apps.legislature.ky.gov/law/statutes/statute.aspx?id=3631 )
State Mandated Subjects – Subjects taught should include reading, writing, spelling, grammar, history, mathematics, science, and civics. It is the parents' right to offer other subjects, as well. See KRS 158.080, KRS 156.160, and KRS. 156.445.  (https://apps.legislature.ky.gov/law/statutes/statute.aspx?id=3434 ) (https://apps.legislature.ky.gov/law/statutes/statute.aspx?id=3644 ) and (https://apps.legislature.ky.gov/law/statutes/statute.aspx?id=3189 )
Assessment Requirements – No standardized testing or assessments required
Immunization Requirements – No immunization requirements
Parental Responsibilities
Notification Required When Homeschool Established? – Notify the superintendent of the local school board in   writing within ten days of the beginning of the school year of their intent to homeschool their child(ren) each     year they homeschool. The letter must include the name, ages and residence of each child in attendance of the     homeschool. See KRS 159.160. Establish a bonafide school for the children to attend. When informing the     district superintendent of your desire to homeschool, create a 'school' name. This will be used for future records    and diplomas.     (https://education.ky.gov/federal/fed/Documents/Kentucky%20Homeschool%20Information%20Packet.pdf )
Record-Keeping Requirements? – Record and maintain scholarship reports of each student's progress in all     subjects taught at the same intervals as the local public schools. See KRS 159.040. KDE suggests that the person     responsible for instruction keep a portfolio that contains samples of the best work done by each child in several     areas of study and maintain the portfolio each year the student is homeschooled. This may be of assistance in     documenting the existence of the homeschool or the transfer of the child to another educational setting. A     record of courses taken and grades received is also necessary. ⎫ Keep accurate attendance records of pupil     attendance. The attendance records can be kept in a notebook, on a computer, or in another manner, but must     be readily available in case of an inquiry. See KRS 159.040. The minimum school term is 1062 instructional hours.   The term of the school shall not be for a shorter period in each year than the term of the public school in the     district in which the child attending the school resides.     (https://education.ky.gov/federal/fed/Documents/Kentucky%20Homeschool%20Information%20Packet.pdf )
Teacher Certification Required – No certifications or licenses required
If you're interested in more information about your state's homeschool laws, contact: www.info@hsf.com and your inquiry will be answered via email within 24 hours. For details about graduation requirements in your area, contact your nearest school district office.
Updated: November 2020
Kentucky Homeschool State Laws Links:
Kentucky Colleges:
---
NOTE:   HomeSchoolFacts intends the above information to be used for research purposes only. None of this information is intended as legal advice by HomeSchoolFacts. 

COVID-19 UPDATE:  Due to the COVID-19 Pandemic and the ever-changing landscape of education, we are monitoring potential changes to homeschool requirements and will be updating our state pages within the next few months.