Kansas Homeschool State Laws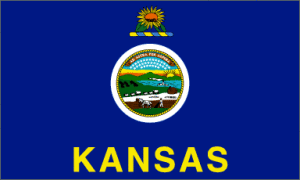 Kansas education laws and statutes do not specifically mention homeschooling. However, in 1996, the Kansas legislature did pass a Parental Rights Act that reads, in part: "It shall be the public policy of this state that parents shall retain the fundamental right to exercise primary control over the care and upbringing of their children in their charge" (K.S.A. Section 38-141(b).
Kansas homeschools are considered to be non-accredited private schools that are required to comply with all legal provisions required of non-accredited private schools. As private schools, homeschools must choose a name and register the name and address with the State Board of Education (K.S.A. Section 72-53,101).
Kansas compulsory attendance rules state that a homeschool must have a "competent" instructor and that instruction time must be "substantially equivalent" to public school hours. Kansas public school attendance regulations require that students in grades 1-11 must attend school a minimum of 1,116 hours per year and 12th graders must attend a minimum of 1,086 hours per year.
The state of Kansas offers two alternatives for homeschools to meet the state compulsory education requirements, as follows:
Option 1 – Establish a homeschool as a non-accredited private school. No record keeping or specific subjects are required when exercising this option. Teachers at the school must be "competent" as determined by the Board of Education. The only filing requirement is that the name and address of the homeschool/private school must be registered with the Board of Education. Registration is a one-time requirement. No standardized testing is required.
Option 2 – Establish a homeschool as a satellite of an accredited private school. Teacher competency requirements are the same as for Option 1. A "satellite" homeschool must conform with all reporting, record keeping and testing requirements requested or required by the "supervising private school." As a satellite to a private school, your homeschool will be legally accountable to that school.
NOTE: Non-accredited private schools in Kansas are not required to teach a specific set of subjects. Kansas public schools and Kansas accredited private schools are required to teach reading, writing, arithmetic, geography, spelling, English grammar and composition, civil government, United States and Kansas history, American patriotism and duties of a U.S. citizen, health and hygiene (K.S.A. Section 72-1101 and Section 72-1103).
Updated March 2018
Kansas Homeschool State Laws Links:
Kansas Colleges:
---
NOTE: HomeschoolFacts does not endorse any of the links or organizations listed above. All of the information provided is intended for research purposes only and is not given as legal advice. REMEMBER: The most important thing you can do to prepare for homeschooling your child is to become familiar with your state's laws about homeschooling.