Kansas Homeschool State Laws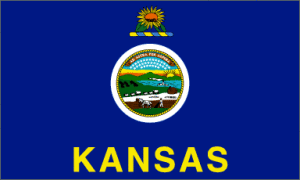 Kansas Homeschool Law/State Code – All homeschools are classified as Non-Accredited Private Schools (NAPS) in Kansas.  K.S.A. 72-4345-4347 includes a complete description of Kansas homeschool laws. (https://www.ksde.org/Portals/0/Title/HomeSchool/Statute.pdf ).
Compulsory Attendance Requirement – Compulsory school attendance laws apply to children attending homeschools who have reached age 7 to those who are under 18 years old (may be under 7 for children identified as handicapped). Every parent or guardian of children in that age group must require such children to attend a public, private, denominational, or parochial school for the duration of the school term. (https://www.ksde.org/Agency/Division-of-Learning-Services/Special-Education-and-Title-Services/Title-Services/Non-Accredited-Private-Schools )
Number of Classroom Hours Required – Classes must be held for a period of time which is substantially equivalent to the time public schools are in session. The time required for public schools is at least 186 days of not less than 6 hours per day, or 1116 hours per year for grades 1-11.
State Mandated Subjects – Kansas Curricular Standards (https://community.ksde.org/Default.aspx?tabid=4754 ) provide information on what students should know and be able to do at different grade levels. Kansas curricular standards are guidelines that may be used to develop curriculum. The standards are not the curriculum. (https://www.ksde.org/Agency/Division-of-Learning-Services/Special-Education-and-Title-Services/Title-Services/Non-Accredited-Private-Schools )
Assessment Requirements – No assessment requirements
Immunization Requirements – No immunization requirements
Parental Responsibilities
Official School Withdrawal Required? – When a student transfers to a NAPS, the school previously attended     must be notified by the parent/guardian. If this step is not completed, the school is required by law to report the     student as truant.
Notification Required When Homeschool Established? – Non-accredited private schools are required by law to     register the name and address of the private elementary or secondary school (homeschool) with the State Board     of Education. There is no "approval" process or review by the State Board of Education for a NAPS and there is     no cost associated with the registration.
Record-Keeping Requirements? – No specified record keeping requirements
Teacher Certification Required? – Non-accredited private schools are not required to employ teachers who are     licensed by the state; however, courses must be taught by competent instructors.
If you're interested in more information about your state's homeschool laws, contact: www.info@hsf.com and your inquiry will be answered via email within 24 hours. For details about graduation requirements in your area, contact your nearest school district office.
Updated: November 2020
Kansas Homeschool State Laws Links:
Kansas Colleges:
---
NOTE:   HomeSchoolFacts intends the above information to be used for research purposes only. None of this information is intended as legal advice by HomeSchoolFacts. 

COVID-19 UPDATE:  Due to the COVID-19 Pandemic and the ever-changing landscape of education, we are monitoring potential changes to homeschool requirements and will be updating our state pages within the next few months.