Indiana Homeschool State Laws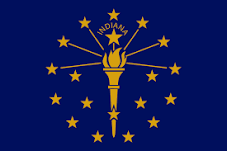 Although Indiana State Law does not include any statutes specific to homeschooling, the Indiana Department of Education (www.doe.in.gov) asks that all homeschools report, if specifically requested, their grade level enrollment numbers to the Indiana Department of Education (Indiana Code Section 20-33-2-5).  In addition, if the State Superintendent requests, Indiana education law asks that homeschools include:
180 days of Instruction – Based on this schedule, the homeschool parent sets the days and hours their particular school will be operating. (Indiana Code Section 20-33-2-5)
Attendance Records – In this situation, the homeschool parent is free to create their own record keeping procedures. There are no forms that are specifically required by the State Superintendent's office. Indiana law does, however, allow "local public school superintendents to request copies of your child's attendance records to verify attendance." (Indiana Code Section 20-33-2-5)
Instruction equivalent to that given in public schools – Indiana considers homeschools to be non-accredited private schools and Indiana State Law does not define "equivalency" in terms of the level and quality of education provided by home schools and other non-accredited private schools. (Indiana Code Section 20-33-2-8)
Curriculum – The Indiana Department of Education's website specifically states that "State law exempts home schools from the curriculum and program requirements which public schools must follow." (Indiana Code Section 20-33-2-12(A))
Homeschool Teachers:  Homeschool teachers in Indiana are not required to be licensed or certified.
Testing:  Indiana homeschool students are not eligible to take any public school administered test unless they are enrolled in a public school for at least one class period a day.  Although homeschooled children "will not receive a diploma from the local public school or from the state," if the student is sixteen years of age, he or she may take the required exam to receive a General Equivalency Development (GED) Certificate.
Public School Programs:  If approved by the local Indiana school superintendent or school board, homeschooled students are eligible to participate in "public school educational activities."  Elementary or junior high homeschool students can participate in public school athletics but participation is "at the discretion of the public school." In order for a homeschooled high school student to participate in public high school athletics, the student's homeschool education program "must also conform to the bylaws of the Indiana High School Athletic Association."  (Indiana Code Section 20-33-2-12(B))
Updated March 2018
Indiana Homeschool State Laws Links:
Colleges in Indiana:
---
NOTE: HomeschoolFacts does not endorse any of the links or organizations listed above. All of the information provided is intended for research purposes only and is not given as legal advice. REMEMBER: The most important thing you can do to prepare for homeschooling your child is to become familiar with your state's laws about homeschooling.