Illinois Homeschool State Laws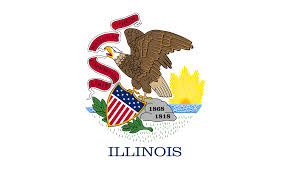 There is no Illinois home school statute and no accreditation process required for non-public schools in Illinois.  Such schools "may" register with the Illinois State Board of Education (ISBE) annually, but are not required by law to do so.  No licensing is required for non-public schools and the school "may choose" whether or not to pursue recognition as an accredited organization.
However, the Illinois statute that allows a private school to register with the State does not allow "home-based" private schools to register.  In fact, Illinois code 105 ICLS 5/2-3.25o(e) specifically denies "home-based" schools from registering with the state as a private school, as follows:  "For purposes of this Section, a non-public school means any non-profit, non-home-based, and non-public elementary or secondary school that is in compliance with Title VI of the Civil Rights Act of 1964 and attendance at which satisfies the requirements of Section 26-1 of this Code."
On the flip side, Illinois code 105 ILCS 5/26-16, does outline a "Graduation Incentive Program" designed to "provide incentives for and encourage all Illinois students who have experienced or are experiencing difficulty in the traditional education system to enroll in alternative programs."  Programs that qualify as "graduation incentive programs" include:  (1) – "Any alternative learning opportunities program established pursuant to Article 13B of this code." (2) Article 13B (Illinois Code 105 ILCS 5/13B-20.10) states that "School districts may establish alternative learning opportunities programs or may contract with regional offices of education, intermediate service centers, public community colleges, non-profit or for-profit education providers, youth service agencies, community-based organizations, or other appropriate entities to establish alternative learning opportunities programs within the public school system and provide a range of alternative learning opportunities for those students in the State who do not meet Illinois Learning Standards."
Whether the concept of "non-profit or for-profit education providers" extends to legally organized and accredited online schools or accredited home-based schools is left to legal interpretation.
Although teachers for Illinois-recognized non-public schools do not have to be licensed or certified, beginning with the 2011-12 school year, the State does require that full-time teachers hold at least a bachelor's degree.  For those teachers who were hired prior to 2011-12 and who are not certified or do not hold at least a bachelor's degree, Illinois requires annual participation in professional development courses directly related to their individual job requirements.
For both registered and "recognized" Illinois non-public schools, the school year must be at least 176 days and include at least five hours of educational instruction a day for a total of at least 880 hours of instructional time per school year.  (12 Illinois Adm. Code 425.30(a)(1)(A).)  Instruction must be provided in English and include the same coursework taught in public schools in the areas of language arts; math; biological, physical and social science; fine arts and physical development; and health (105 ICLS 5/27-1).
Updated March 2018
Illinois Homeschool State Laws Links:
Illinois Colleges:
---
NOTE:  HomeschoolFacts does not endorse any of the links or organizations listed above.  All of the information provided is intended for research purposes only and is not given as legal advice.  REMEMBER:  The most important thing you can do to prepare for homeschooling your child is to become familiar with your state's laws about homeschooling.