Connecticut Homeschool State Laws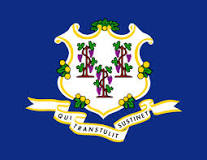 Connecticut Homeschool Law/State Code –  Section 10-184 "…each parent or other person having control of a child five years of age and over and under eighteen years of age shall cause such child to attend a public school regularly during the hours and terms the public school in the district in which such child resides is in session, unless such child is a high school graduate or the parent or person having control of such child is able to show that the child is elsewhere receiving equivalent instruction in the studies taught in the public schools." (https://www.cga.ct.gov/current/pub/chap_168.htm#sec_10-184 )   
Compulsory Attendance Requirement – All children ages 7 to 17 must attend school under compulsory education laws. Home schooling is one way to fulfill the terms of Connecticut compulsory education laws.. 
Number of Classroom Hours Required – As per National Center for Education Statistics (NCES) 2018 report, public school attendance requirements for Connecticut are: a minimum of 180 classroom days. (Unless otherwise noted, home school requirements are either the same OR are not specified by this state.) 
State Mandated Subjects – Connecticut state law related to homeschooling requires instruction to be offered in reading, writing, spelling, English grammar, geography, arithmetic, United States history, and citizenship (including a study of the town, state and federal government).
Assessment Requirements – No standardized tests required
Immunization Requirements – No immunization requirements 
Parental Responsibilities
Official School Withdrawal Required? – Yes. Since July 1, 2011, "… parents or persons having control of a child     seventeen years of age may consent to such child's withdrawal from school.  Such parent or person shall     personally appear at the school district office and sign a withdrawal form."  "The parent or person having control   of a child five years of age shall have the option of not sending the child to school until the child is six years of     age and the parent or person having control of a child six years of age shall have the option of not sending the     child to school until the child is seven years of age.  The parent or person shall exercise such option by personally   appearing at the school district office and signing an option form."      (https://www.cga.ct.gov/current/pub/chap_168.htm#sec_10-184)
Notification Required When Homeschool Established? – Yes.  Parents must file an intent to homeschool form     within 10 days of starting home instruction. "Attendance of children at a school other than a     public school     shall not be regarded as compliance with the laws of the state requiring parents and other persons having     control of children to cause them to attend school, unless the teachers or persons having control of such     school file with the Commissioner of Education student attendance reports at such times and in such forms as     the commissioner prescribes, and make such reports and returns concerning the school under their charge to     the Commissioner of Education as are required from boards of education concerning the public schools, except     that no report concerning finances shall be required."      (https://www.cga.ct.gov/current/pub/chap_168.htm#sec_10-188 )
Record Keeping Requirements? – No attendance or vaccination records required
Teacher Certification Required? – No parent or teacher education requirements 
If you're interested in more information about your state's homeschool laws, contact: www.info@hsf.com and your inquiry will be answered via email within 24 hours. For details about graduation requirements in your area, contact your nearest school district office.
Updated: November 2020
Connecticut Homeschool State Laws Links:
Connecticut Colleges:
______________________________________________________________________________________________
NOTE:   HomeSchoolFacts intends the above information to be used for research purposes only. None of this information is intended as legal advice by HomeSchoolFacts.  
COVID-19 UPDATE:  Due to the COVID-19 Pandemic and the ever-changing landscape of education, we are monitoring potential changes to homeschool requirements and will be updating our state pages within the next few months.