Colorado Homeschool State Laws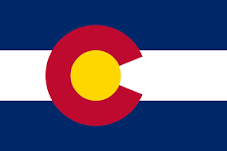 Colorado Homeschool Law/State Code – "Pursuant to Colorado law, parents who wish to begin home schooling must provide written notification of the establishment of the home school program 14 days before beginning the home school program to a Colorado school district. The written notification must include the name, age, place of residence, and number of attendance hours for each child that will be participating in the home school program. Written notification must be re-submitted to a Colorado school district each year."  (https://www.cde.state.co.us/choice/homeschool )
Also: CRS Section 22-33-204.5  (https://www.cde.state.co.us/choice/homeschool_law )  
Compulsory Attendance Requirement – Any child who is age 6 on or before August first of each school year or who is under the age of 17 must attend school or an authorized homeschool.
Number of Classroom Hours Required – "Home school programs must have no less than 172 days of instruction, averaging 4 contact hours per day." 
State Mandated Subjects – "Colorado law states that home school programs must include, but are not limited to, the subjects of communication skills of reading, writing, and speaking, mathematics, history, civics, literature, science, and regular courses of instruction in the constitution of the United States." (https://www.cde.state.co.us/choice/homeschool) 
Assessment Requirements – "Students that are participating in a home school program must have academic progress evaluated in grades 3, 5, 7, 9, and 11.  Students can take a nationally standardized achievement test or a qualified person, as described in C.R.S. 22-33-104.5(3)(f), can be selected by the parent to evaluate the student's academic progress.  The results of the evaluation, whether by assessment or qualified person, must be submitted to the school district that received the written notification."
Immunization Requirements – Immunizations and immunization records required for each homeschooled child
Homeschool Options – 
Homeschooling under Colorado's homeschool statute (See above)

Homeschooling with an independent school

Homeschooling with a certified teacher
Parental Responsibilities
Notification Required When Homeschool Established? – "Pursuant to Colorado law, parents who wish to     begin home schooling must provide written notification of the establishment of the home school program 14     days before beginning the home school program to a Colorado school district. The written notification must     include the name, age, place of residence, and number of attendance hours for each child that will be     participating in the home school program. Written notification must be re-submitted to a Colorado school     district each year."
Record Keeping Requirements? – "Records for each child participating in a home school program must be     kept on a permanent basis by the parent who is overseeing the home school program.  The records must     include, but are not limited to, attendance, test and evaluation results, and immunization records as required     by C.R.S sections 25-4-901, 25-4-902, and 25-4-903.  The records must be produced and provided to the     school district that received the written notification, not the state of Colorado, at the school district's     request. " 
Teacher Certification Required? – No certifications required unless operating a school with a certified teacher
If you're interested in more information about your state's homeschool laws, contact: www.info@hsf.com and your inquiry will be answered via email within 24 hours. For details about graduation requirements in your area, contact your nearest school district office.
Updated: November 2020
Colorado Homeschool State Laws Links:
Colorado Colleges:
______________________________________________________________________________________________
NOTE:   HomeSchoolFacts intends the above information to be used for research purposes only. None of this information is intended as legal advice by HomeSchoolFacts.  
COVID-19 UPDATE:  Due to the COVID-19 Pandemic and the ever-changing landscape of education, we are monitoring potential changes to homeschool requirements and will be updating our state pages within the next few months.