Arizona Homeschool State Laws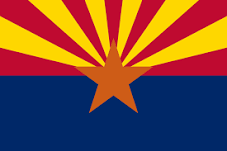 Arizona has some of the most homeschool-friendly education regulations of any state in the United States of America.  The state has no requirements for school accreditation, no requirements for licensing, no requirements for teacher certification; no requirements for approval and testing of homeschooled children is not required during the time the student is receiving homeschool instruction. However, it is important to remember that homeschooling is under the jurisdiction of each Arizona County for each homeschool within its borders, so requirements may vary somewhat from county-to-county.  (NOTE:  According to A.R.S. §15-802, enrollment in and attendance at a public charter school or virtual academy is not considered to be "homeschooling" in Arizona.)
Arizona defines "home education" as the parent-taught, family financed, education of a child at home.  According to Arizona education law, "homeschoolers are parents or legal guardians who choose to educate their own children at home in at least the required subjects of reading, grammar, math, science, and social studies." (A.R.S. §15-802)
Arizona Revised Statutes §15.802.G.2-3 defines "homeschool" as a "nonpublic school conducted primarily by the parent, guardian or other person who has custody of the child, or nonpublic instruction provided in the child's home."  The same regulation identifies a "private school" as a "nonpublic institution, other than the child's home, where academic instruction is provided for at least the same number of days and hours each year as a public school."  (NOTE:  Arizona public school attendance is required for at least 180 days each year.  However, the compulsory attendance requirement does not apply to homeschools.)
In order to legally homeschool in Arizona, a parent must file two documents with their local County School Superintendent:  (1) A notarized Affidavit of Intent (AOI), and (2) a certified birth certificate for each child attending the homeschool.  The AOI has to be filed only once for each child unless a child re-registers in an Arizona public school and then decides to return to homeschooling.  Also, if a homeschooled child lives within the "attendance area" of a public school, he or she is eligible to try out for interscholastic activities in the same way as does any child enrolled in a public school.
One of the best Arizona homeschool "perks" allows homeschool students to enroll in community college classes as early as age twelve and also provides the opportunity for homeschooled students to receive dual high school and college credit for any classes numbered 101 and above.
Updated March 2018
Arizona Homeschool State Laws Links:
Arizona Colleges:
NOTE:  HomeschoolFacts does not endorse any of the links or organizations listed above.  All of the information provided is intended for research purposes only and is not given as legal advice.  REMEMBER:  The most important thing you can do to prepare for homeschooling your child is to become familiar with your state's laws about homeschooling.