Arizona Homeschool State Laws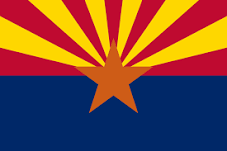 Arizona Homeschool Law/State Code – "Homeschool" means a nonpublic school conducted primarily by the parent, guardian or other person who has custody of the child or nonpublic instruction provided in the child's home.
https://www.azleg.gov/viewdocument/?docName=http://www.azleg.gov/ars/15/00802.htm 
AZ Revised Statutes (ARS) 15-802(B) (2)   If the child will attend a private school or homeschool, (parent must) file an affidavit of intent with the county school superintendent stating that the child is attending a regularly organized private school or is being provided with instruction in a homeschool.  The affidavit of intent shall include:(a) The child's name. (b) The child's date of birth. (c) The current address of the school the child is attending. (d) The names, telephone numbers and addresses of the persons who currently have custody of the child.
"An affidavit of intent shall be filed within thirty days from the time the child begins to attend a private school or homeschool and is not required thereafter unless the private school or the homeschool instruction is terminated and then resumed.  The person who has custody of the child shall notify the county school superintendent within thirty days of the termination that the child is no longer being instructed at a private school or a homeschool.  
If the child will attend homeschool, the child has not reached eight years of age by September 1 of the school year and the person who has custody of the child does not desire to begin home instruction until the child has reached eight years of age, file an affidavit of intent pursuant to paragraph 2 of this subsection stating that the person who has custody of the child does not desire to begin homeschool instruction."
Compulsory Attendance Requirement – Arizona compulsory attendance laws apply to children who turn 6 before September 1st of each school year through age 16 or completion of the 10th grade, whichever occurs first. Home school parents can file an affidavit with the county superintendent of schools stating that their child will not begin home schooling until age 8. 
Number of Classroom Hours Required – No minimum number of attendance days/attendance tracking not required
State Mandated Subjects – Home schools must teach reading, grammar, math, social studies and science.
Assessment Requirements – No student assessment requirements
Immunization Requirements – No immunization requirements
Parental Responsibilities
Official School Withdrawal Required? A one-time Affidavit of Intent must be filed with county superintendent
Notification Required When Homeschool Established?  One-time Affidavit of Intent must be filed within 30 days after beginning to homeschool in the subject county.
Record Keeping Requirements?  No record keeping requirements
Teacher Certification Required? No teacher certification or license requirements
Birth Certificate – Parent or person with child's custody must provide a certified copy (or notarized photo copy)     of the child's birth certificate. If birth certificate is not available, other proof of identity will be accepted if     accompanied by an affidavit explaining why a copy of the birth certificate is not available.

If you're interested in more information about your state's homeschool laws, contact: www.info@hsf.com and your inquiry will be answered via email within 24 hours. For details about graduation requirements in your area, contact your nearest school district office.
Arizona Homeschool State Laws Links:
Arizona Colleges:
Updated November 2020
______________________________________________________________________________________________
NOTE:   HomeSchoolFacts intends the above information to be used for research purposes only. None of this information is intended as legal advice by HomeSchoolFacts. 
COVID-19 UPDATE:  Due to the COVID-19 Pandemic and the ever-changing landscape of education, we are monitoring potential changes to homeschool requirements and will be updating our state pages within the next few months.