Alaska Homeschool State Laws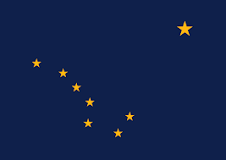 Alaska legally recognizes home schools under the following five options:
If a child is being educated at home by their legal parent or guardian, that child is exempt from Alaska public school compulsory attendance laws;
A child can be tutored by a certified teacher;
A child can be enrolled in a "full-time program of correspondence study" approved by the Alaska Department of Education;
A child can be enrolled in an "educational experience" approved by the local school board after a "written request for excuse from school attendance;" and
If a homeschool meets the requirements of Alaska Statute Sections 14.30.010(b)(12) and 14.30.010(b), the school can qualify as a "religious or other private school." (NOTE: Alaska does not accredit private schools and has not adopted accreditation regulations but the state has an "informal" agreement with the Northwest Association of Schools and Colleges to provide accreditation to public and private schools that request accreditation. SOURCE:  Alaska Stat. Section 14.07.020(10).)
Alaska Statutes relating to homeschooling:
Section 14.30.010(b)(12) – Alaska children that are homeschooled are exempt from the Compulsory Attendance Law.
Section 14.30.010(b)(12) –Alaska parents are not required to register their homeschool with state or local school districts.
Sections 14.30.0101 and 14.20.020 – If a parent chooses to use a private tutor for their child, the tutor must hold an Alaska teaching certification.
Sections 14.30.01(b)(12) and 14.30.01(b) – Homeschools in Alaska are legal under five options (see paragraph 1, above).
Section 14.45.120 – Unless an Alaska homeschool is operating as a private or religious school, there are no testing requirements.  If the school is operating as a private or religious school, the parent must administer a nationally standardized test to their students in grades four, six and eight at least once each school year.
Updated March 2018
Alaska Homeschool State Laws Links:
Alaska Colleges:
---
NOTE:  HomeschoolFacts does not endorse any of the links or organizations listed above.  All of the information provided is intended for research purposes only and is not given as legal advice.  REMEMBER:  The most important thing you can do to prepare for homeschooling your child is to become familiar with your state's laws about homeschooling.