Alabama Homeschool State Laws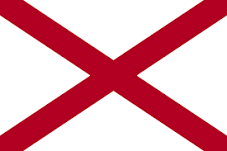 Alabama Homeschool Law/State Code – The 2018 Code of Alabama, Section 18, Education Law, does not include specific homeschool education laws. For complete information about Alabama homeschooling, visit:    (https://www.alsde.edu/sites/search/Pages/results.aspx?k=Alabama%20home%20school%20law )
Compulsory Attendance Requirement – Alabama children aged 6 to 17 are required to attend school.  Children who are age 6 are not required to enroll until age 7 if the parent of the child opts out by written notification to the school board saying their child will not enroll until age 7.  
Number of Classroom Hours Required – Church schools and private schools are not required to conform to a specified number of classroom hours.
State Mandated Subjects – Alabama does not mandate a required list of core subjects for non-public schools.
Assessment Requirements – Alabama education law does not require the administration of standardized tests for homeschoolers. 
Immunization Requirements – Only Option 2/Private School (below), is subject to immunization requirements.
Homeschool Options – Alabama offers three homeschool options:
Alabama Church School – The school handles all record-keeping details.

Set up a private, non-public school – Since 2014, Alabama has offered parents this option, which has fewer regulations than previously offered options. 

Employ a certified state tutor – or become a certified tutor yourself (contact your local school district to learn about how to become a certified tutor). 
Parental Responsibilities – 
School Withdrawal Process – If your child is already enrolled in a public school, inquire as to what you must do to officially withdraw the child from school.
Homeschool Notification – Alabama requires that a private school enrollment form be sent to the local county or city superintendent of schools.
Record-Keeping Requirements- Attendance reporting and student progress portfolios recommended but not required.
Teacher Certification – Alabama has no required education qualifications for homeschool teachers other than Option 3: hire or become a certified tutor.
If you're interested in more information about your state's homeschool laws, contact: www.info@hsf.com, and your inquiry will be answered via email within 24 hours. For details about graduation requirements in your area, contact your nearest school district office.

 
Alabama Homeschool State Laws Links:
Alabama Colleges:
Updated November 2020

---
NOTE:   HomeSchoolFacts intends the above information to be used for research purposes only. None of this information is intended as legal advice by HomeSchoolFacts.  
COVID-19 UPDATE:  Due to the COVID-19 Pandemic and the ever-changing landscape of education, we are monitoring potential changes to homeschool requirements and will be updating our state pages within the next few months.