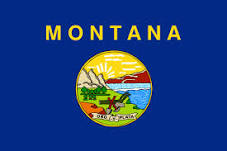 Montana Code Ann. Section 20-5-102(2) relates to home school exception to public school compulsory enrollment regulations. The section states that a "parent, guardian or other person shall enroll the child in the school assigned by the trustees of the district within the first week of the school term or when he establishes residence in the district unless the child is: (e) enrolled in a nonpublic or home school that complies with the provisions of [Montana Code subsection] 20-5-109. For the purposes of this subsection (e), a home school is the instruction by a parent of his child, stepchild, or ward in his residence and a nonpublic school includes a parochial, church, religious, or private school."
Montana does not require teacher certification or the use of standardized testing in home school situations. However, a homeschool must:
Maintain and make available to the county superintendent (upon request) attendance and disease immunization records;
Meet the minimum aggregate hours of instruction in accordance with Montana Code Ann. Section 20-1-301 and Montana Code Ann. Section 20-1-302;
Operate in a building that meets applicable local health and safety regulations;
"Provide an organized course of study that includes instruction in the subjects required of public schools as a basic instructional program pursuant to Montana Code Ann. Section 20-7-111;" and
"Notify the county superintendent of schools of the county in which the home school is located in each school fiscal year of the student's attendance at the school." (Montana Code Ann. Section 20-5-109)
According to Montana home school law (Montana Code Ann. Section 20-5-109), "a parent has the authority to instruct his child, stepchild, or ward in a home school and is solely responsible for:
The educational philosophy of the home school;
The selection of instructional materials, curriculum and textbooks;
The time, place and method of instruction; and
The evaluation of the home school instruction. (Montana Code Ann. Section 20-5-111)
Updated January 2018
Montana Homeschool State Laws Links:
Montana Colleges
---
NOTE:  HomeschoolFacts does not endorse any of the links or organizations listed above.  All of the information provided is intended for research purposes only and is not given as legal advice.  REMEMBER:  The most important thing you can do to prepare for homeschooling your child is to become familiar with your state's laws about homeschooling.