Pennsylvania Homeschool State Laws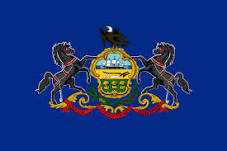 In 1988, the Pennsylvania General Assembly passed Act 169. This law amended the Pennsylvania School Code to allow parents or guardians to homeschool their children as an option to compulsory school attendance. This law specifies the requirements and responsibilities of the parents and the school district where the family lives. (NOTE:  a home education program is not considered to be a nonpublic school under the home education law.)
Pennsylvania Statute 24 P.S. Section 13-1327.1 outlines filing requirements for home education programs.  Parents or guardians "or other person having legal custody of the child or children" must file a notarized affidavit prior to beginning a home education program and "annually thereafter on August 1," with the student's local superintendent of schools.  The affidavit should include:
The name of the supervisor of the home education program who is responsible for providing instruction;
The name and age of each child participating in the home education program;
The address and telephone number of the home school program site;
Verification that the home education program will teach subject "as required by law" in "the English language, including an outline of proposed education objectives by subject area; evidence that the child has been immunized in accordance with the provisions of P.S. Section 1303(a) and has received the health and medical services required for students of the child's age or grade level;" and
A statement that "the home education program shall comply with the provisions of [this] section and that the notarized affidavit shall be satisfactory evidence thereof."
The affidavit should also contain a "certification to be signed by the supervisor that the supervisor, all adults living in the home and persons having legal custody of a child or children in a home education program have not been convicted of the criminal offenses enumerated in subsection (3) of section 111 within five years immediately preceding the date of the affidavit (24 P.S. Section 13-1327.1)."
The parent or guardian of the child to be enrolled in a home education program who has a high school diploma or its equivalent will be designated as "the supervisor" of the home program and will be held responsible for providing instruction. The "supervisor" will be responsible for maintaining records including:  (1) a log of time spent; (2) titles of reading materials and samples of student writings, worksheets, workbooks or creative materials used; (3) results of standardized tests in grades 3, 5 and 8; and (4) an evaluation of the student's education progress by a licensed clinical or school psychologist or a certified teacher with two years' experience or a nonpublic school teacher or administrator with two years' experience in the last ten years.  Records should be provided on an annual basis by June 30th, "or as requested in writing."  Instruction must be provided for 180 days at the elementary level and 180 days or 990 hours at the secondary level.  Courses provided must be equivalent to those required for public schools in Pennsylvania.
Pennsylvania Homeschool State Laws Links:
Pennsylvania Colleges:
NOTE:  HomeschoolFacts does not endorse any of the links or organizations listed above.  All of the information provided is intended for research purposes only and is not given as legal advice.  REMEMBER:  The most important thing you can do to prepare for homeschooling your child is to become familiar with your state's laws about homeschooling.