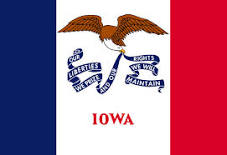 Iowa Code Section 299A.1 states that home instruction or home schooling satisfies compulsory attendance requirements as "competent private instruction." The code defines the term as "private instruction provided on a daily basis for at least 148 days during a school year, to be met by attendance for at least 37 days each school quarter, by or under the supervision of a licensed practitioner in the manner provided under section 299A.2, or other person under section 299A.3, which results in the student making adequate progress," as noted below.
From 1991 through 2012, Iowa Code consistently defined homeschooling as "competent private instruction." In 2013 Iowa Code was legally revised and now includes two main homeschooling paths plus related options. As of 2013-2014, all options are clearly defined in the Iowa Department of Education's "Private Instruction Handbook (Home Schooling or Enrollment in a Non-Accredited 'School')" and summarized in a "Private Instruction Comparison Chart." Both of these documents can be found at educateiowa.gov.
Independent Private Instruction/IPI – Iowa Code Section 299A.1(2)(b): Allows a homeschool to instruct up to four unrelated students in addition to children in the family who are being homeschooled. Students must be instructed in math, reading, language arts, science and social studies. This path does not require homeschool parents to notify the school district of their intention to homeschool or complete a year-end assessment of students. However, if the local school superintendent asks for the information, the homeschool must provide a report including the name of the primary instructor, location of the homeschool, the name of the person managing the IPI and the names of all students enrolled in the school. IPI does not include accredited private schools.
Competent Private Instruction/CPI – Iowa Code Section 299A.1 and 299A.3:   CPI is defined in paragraph one, above. This approach offers two options to the homeschool parent. Option 1 in this category applies to instruction "by or under the supervision of a licensed practitioner" and requires that the homeschool parent submit a registration Form A to the school district by September 1 of the year of enrollment. Option 2 covers instruction "by a non-licensed person" and allows that the homeschool parent is not required, but MAY submit a Form A to the school district by September 1st of the year of enrollment.
Iowa Homeschool State Laws Links:
Iowa Colleges
NOTE: HomeschoolFacts does not endorse any of the links or organizations listed above. All of the information provided is intended for research purposes only and is not given as legal advice. REMEMBER: The most important thing you can do to prepare for homeschooling your child is to become familiar with your state's laws about homeschooling.