Let's face it. You have a lot on your plate as a homeschool parent. And a lot to keep track of, such as reports, student work samples, attendance records, etc. Wouldn't it be great to have one organized, concise location to keep all necessary documents?
Global Student Network (GSN) has just what you need!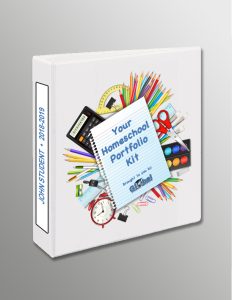 Our homeschool portfolio kit will give you exactly what you need to compile a binder with all your essential homeschool documents. Imagine having everything you need at your fingertips! The final result will contain sections for:
Letter of Intent
Attendance Sheet
Quarterly Grade Reports
Summary of Each Subject
General Log
Samples of Student Work
Standardize Testing
Transcript/Report Card & Diploma
GSN's homeschool portfolio kit is free to families who enroll with GSN curriculum. Visit GSN today!
Not enrolled at GSN? During the month of February, you can receive this Homeschool Portfolio Kit for free by clicking here.
Need more help? How about a Homeschool Academic Advisor?
GSN provides a certified teacher experienced with online learning to assist families with planning and record keeping.  Your homeschool academic advisor is waiting to help you! The advisor can assist in planning your student's course of study and even pull reports at the necessary time to include in you your homeschool portfolio.
Your homeschool academic advisor can help you:
Academic planning
Compliance with local regulations
Compiling your portfolio
Academic Advisor is a FREE SERVICE to GSN families*. Otherwise, our homeschool academic advisor is available for $99 per year for each student.
*Homeschool Academic Advisor free to students enrolled full-time at Global Student Network.
Global Student Network (GSN) has served homeschool families since 2004. In addition to providing multiple online curriculum options from one location, GSN is also committed to helping homeschool families by providing services such as a homeschool academic advisor and an accredited private online school with certified teachers. Enroll anytime!